Create a Black and White Aesthetic this Winter
Have you ever thought about why black and white images can be so powerful as art? If we think back to the origins of photography, colour literally had to be painted onto a photograph and it wasn't until much later that colour photography as a process became a reality.
In this blog post, I'll be writing about some key things that will help you develop a black and white aesthetic in your home.
For a black and white image to work well, there needs to be a combination of strong contrast, shadow, light and depth. These factors combined can bring a real sense of punch to an image, and should be central to any black and white aesthetic you want for your room.
As a photographer, I love to work in black and white, both for portraiture and for my work in landscape, architecture and other forms.
I try to visualise in black and white, to find the image I think will work better that way, and so many of my images are actually captured in black and white straight from camera because it helps to see that way without the distraction of colour.
Take this image for example, Mirror Image.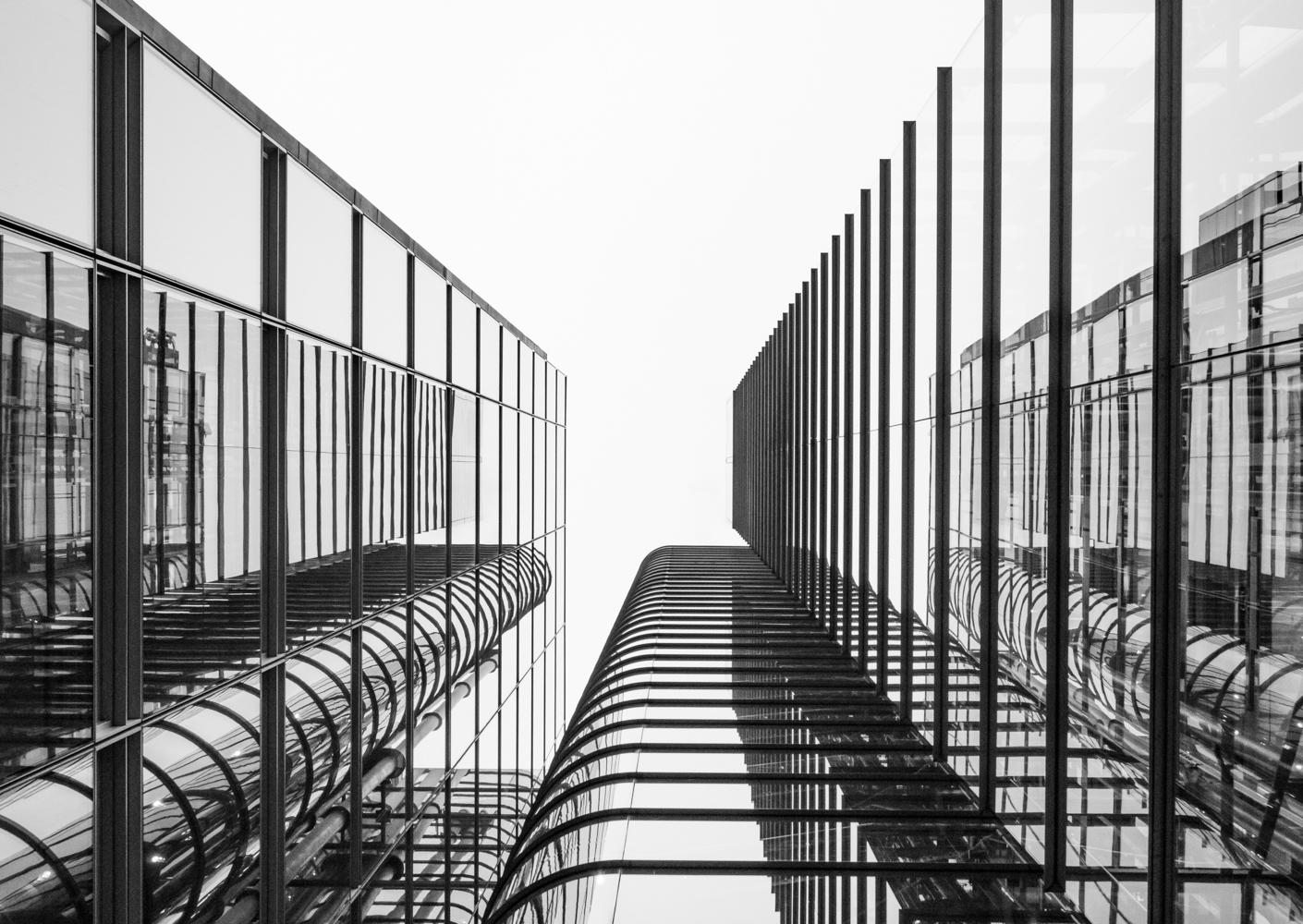 Now, I talk about this image a lot, and it's a perfect example of a strong piece of black and white imagery, but the building I photographed is anything but black and white. In real life, the glass is a smoked brown, the inside steelwork is painted yellow. So if you looked at the building like that, you'd probably never want to think about this as a piece of wall art.
But black and white transforms it into something else, a mass of lines, reflections and form.
So, the first thing you should do is plan. Ask yourself, is this going to be a strictly black and white theme to your living space or will there be accents and hints of colour?
If you're looking to introduce subtle hints of colour into your room, you can do this with images which use selective colour, which in the images I create tends to be red. It just works really well when done well.
As an example of a selective colour image, take this print from Portland Bill in Dorset.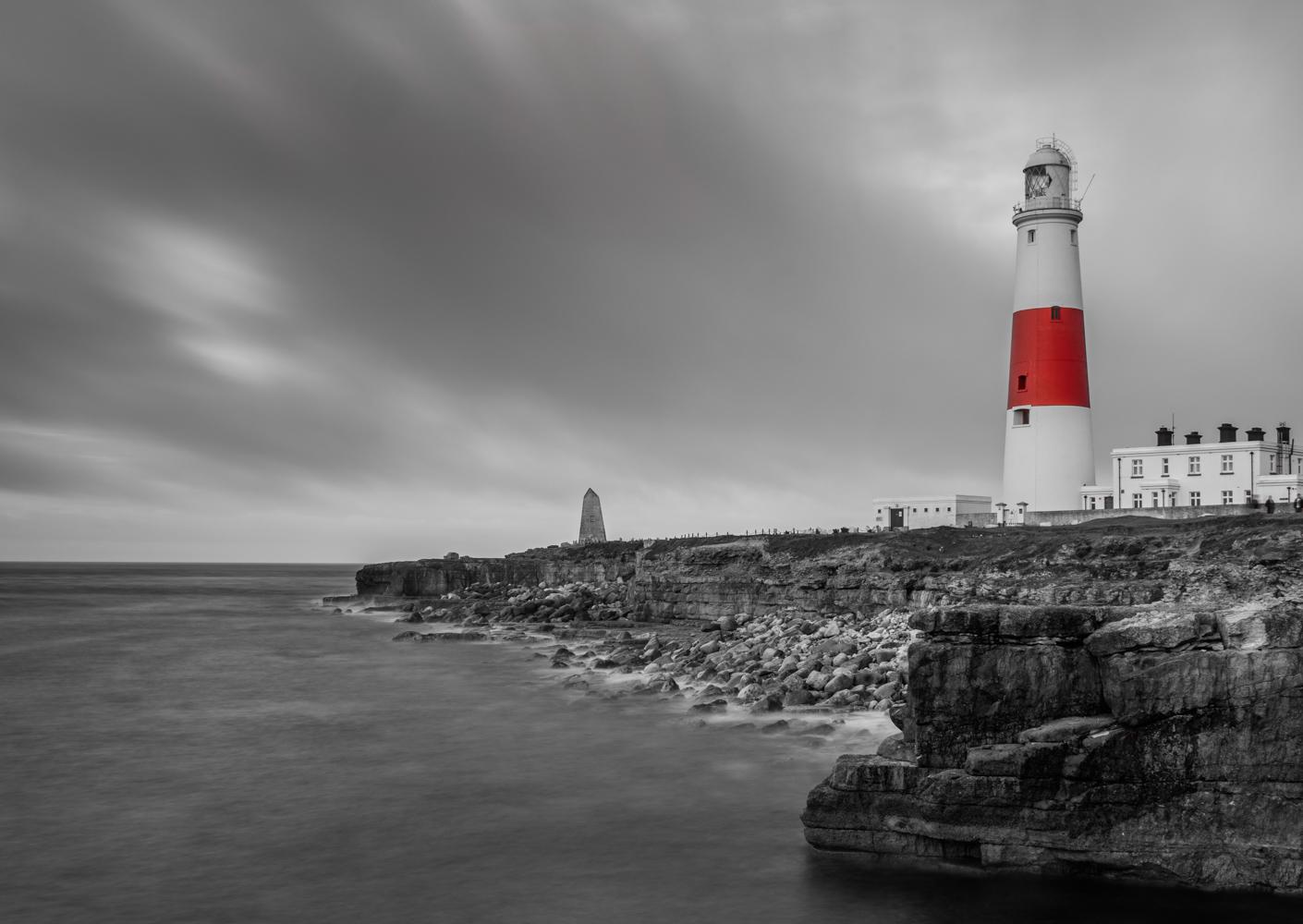 This print called Portland Bill IV is a great example of how just one colour has been used to enhance this long exposure.
So, in any black and white aesthetic, don't completely rule colour out, because it really can add something subtle, especially in any wall art compositions you choose.
Once you've settled on the question of whether any colour is allowed, you should perhaps think about how you make your wall art work for your room. Black and white works well for images with lines, geometry and form, and it is something I love to photograph, and have done all over the world.
Take for example this image from Hong Kong, taken in 2019.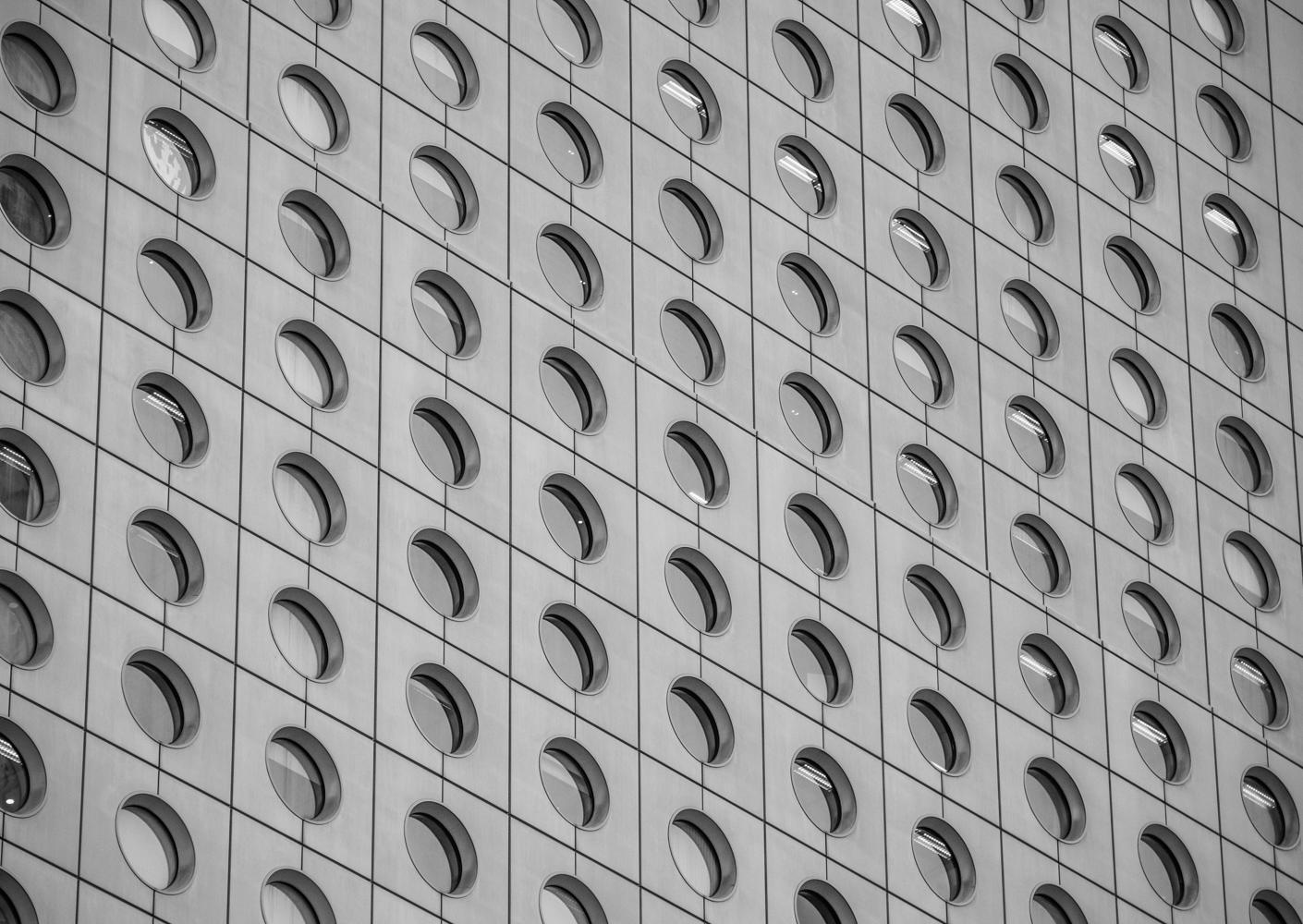 Entitled Circular, it's a great example of how simple geometry can make an image so powerful. This building sits in Central Hong Kong Island, those simple circular windows make for a strong visual image.
In the same way, think about lines. Mirror image was one example I wrote about earlier, but lines and curves can combine really well too. And if you're thinking about patterns in your overall design, then this print, Blackfriar's Arches is a good example of how lines can combine so well.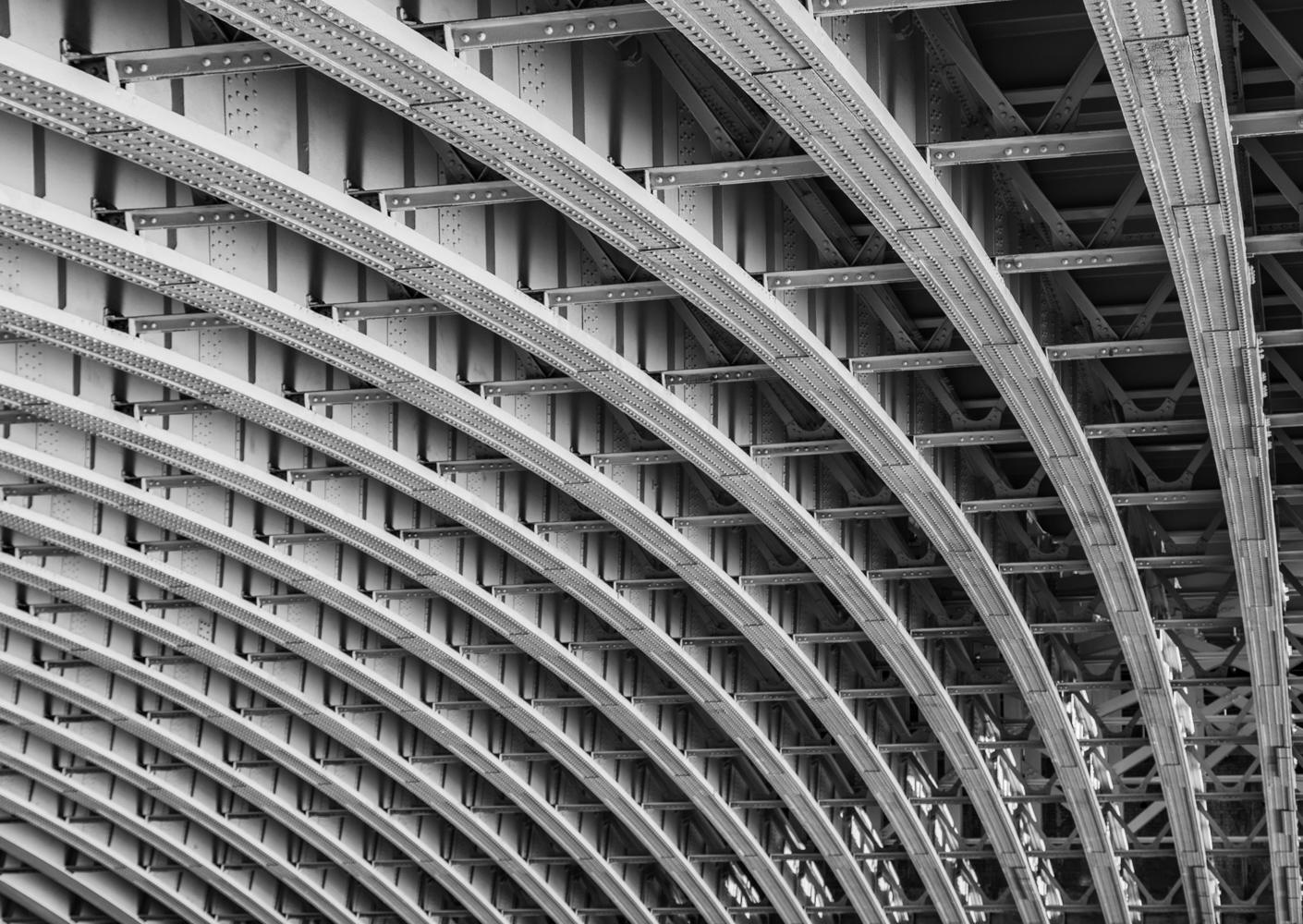 The lines draw you in from the far right corner, with each piece of curved steel at a tighter and tighter angle. These kinds of image work well because of the strong use of shadow and contrast, plus because of their abstract nature.
When you're looking to develop a theme in black and white, you can choose either a number of smaller images in a gallery wall style, or go with statement pieces.
As an example, I created a gallery wall collection of circles and lines, which you can buy here.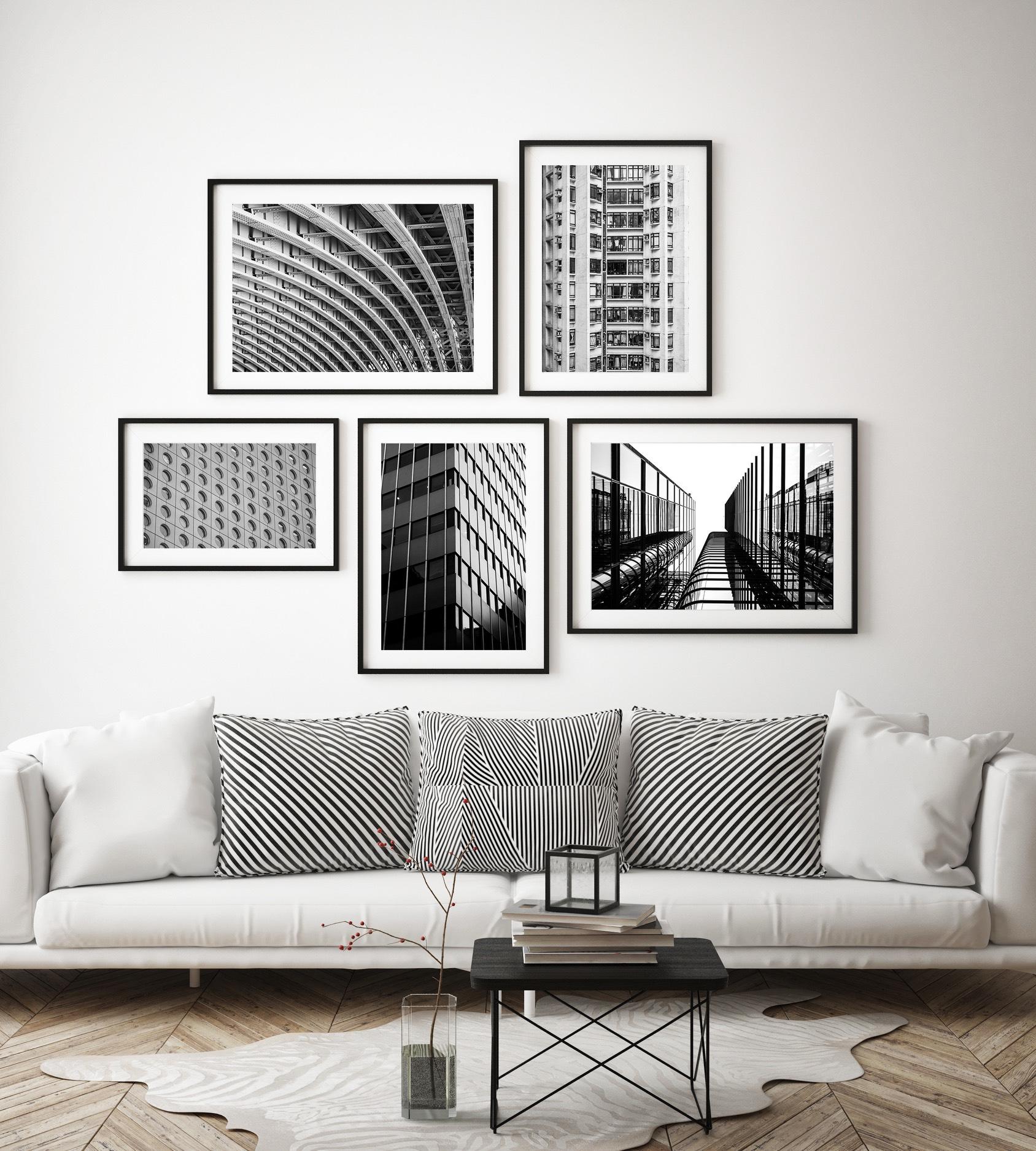 Another aspect to consider is whether you'd prefer landscape as a feature of your black and white aesthetic.
As an example, this print from Reims in France is a great way of showing off a street scene, called Reims Tramlines, the lines draw your eye into the centre of the image.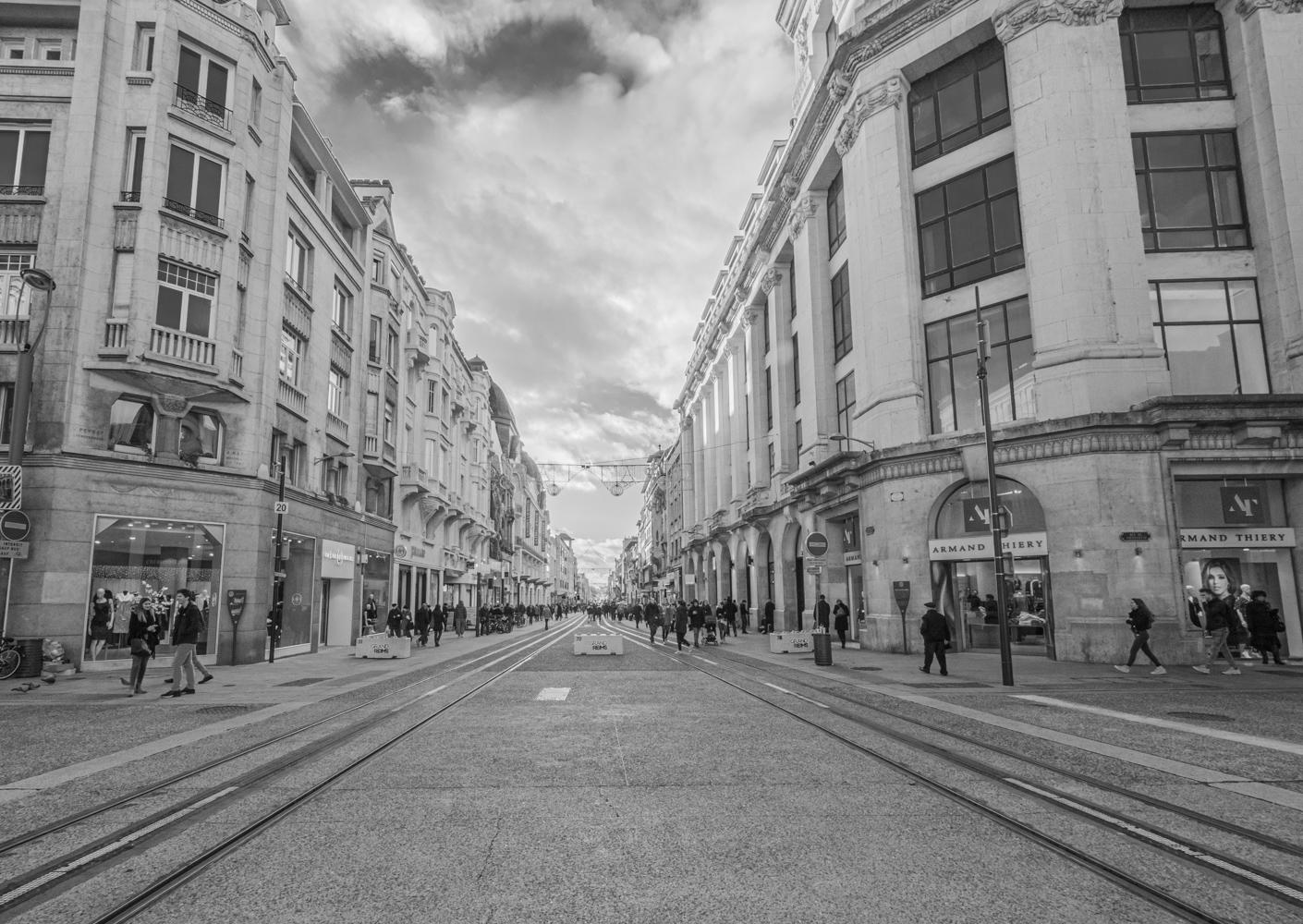 And finally, for any black and white aesthetic, don't forget the power of nature. Coastal images can work incredibly well in black and white, especially when there is some drama in the sky.
This image called Cloudburst was taken in Dorset on the Jurassic Coast. Using a red filter within the image creates this incredible scenery, with one of my favourite skies ever.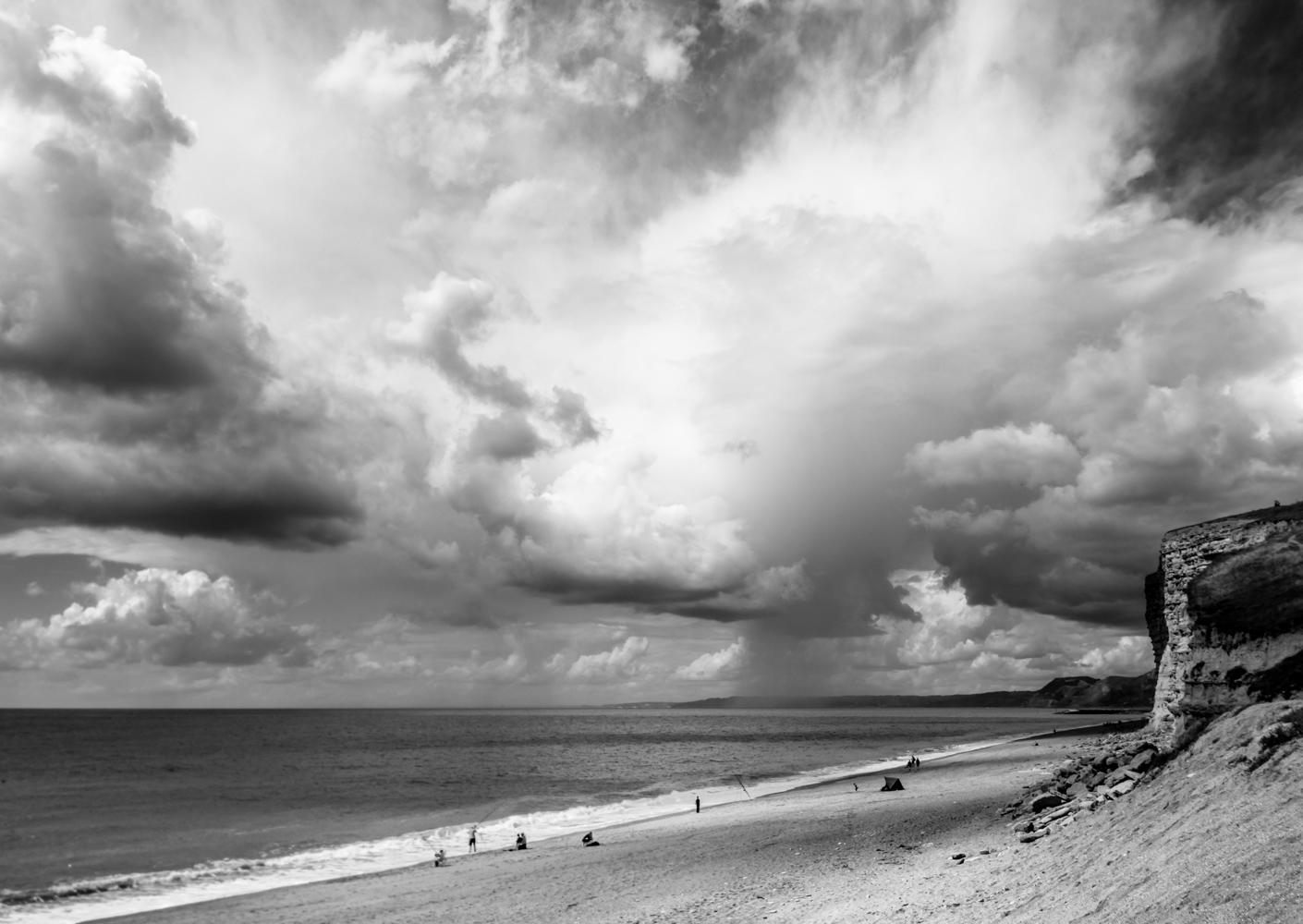 And finally, another coastal classic, this time from Calais in France, showing off just how wonderful coastal images can be in a black and white aesthetic. This print from the sand dunes on the Calais coast show off some old German bunkers, but the main feature is the sky and the sea, which are wonderful. Don't count out coastal in your thinking.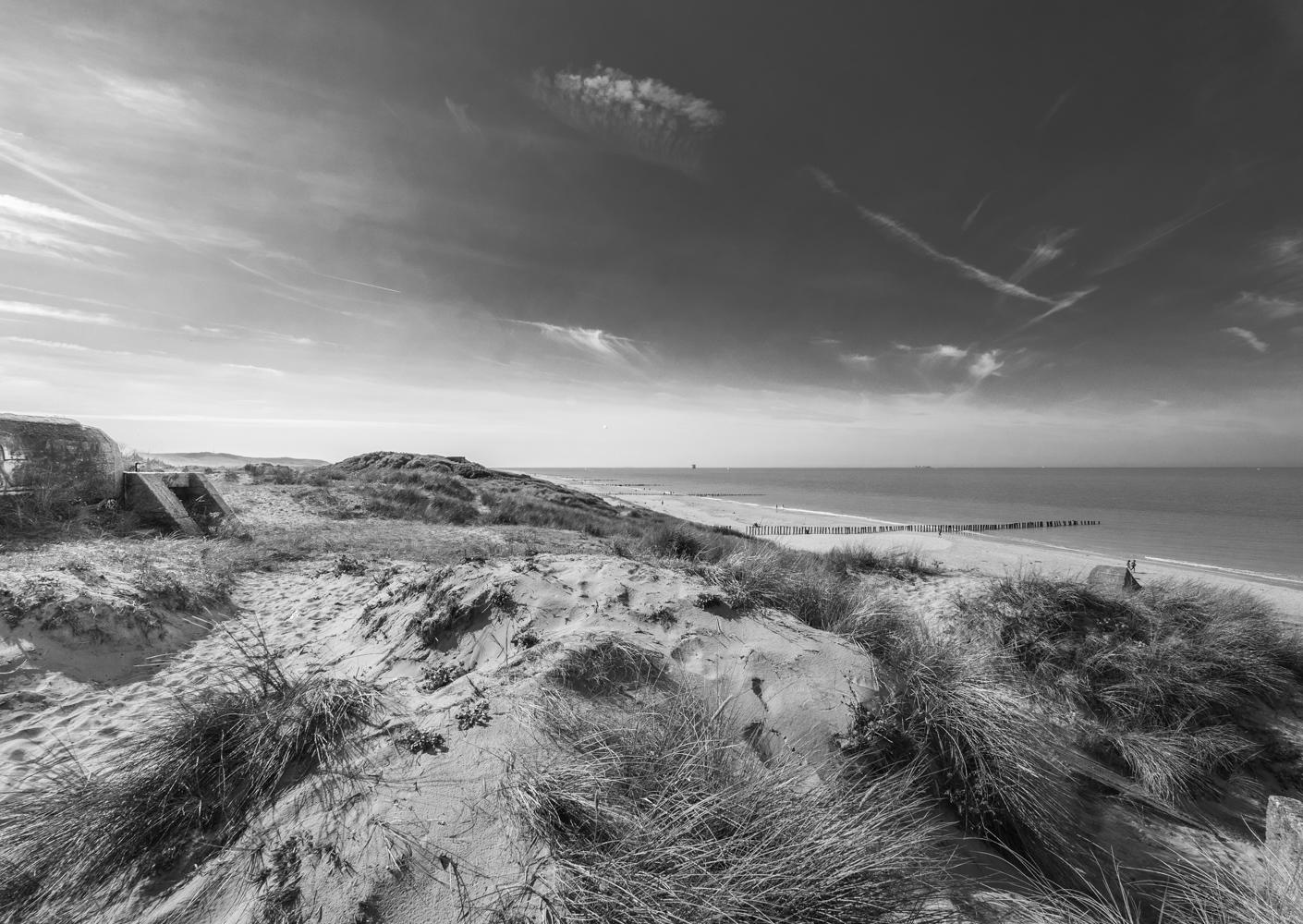 So, remember, when pulling together a black and white aesthetic, think about the overall concept. Are you looking for lines, geometry and form? Are you looking to add in selective pieces of colour? Are you thinking about complementing your overall look with nature or just thinking abstract?
Have a browse through the black and white collection in the gallery, with a wide set of choices of everything I've curated in black and white. We print our own prints up to A2 (42 x 59cm) in traditional prints, and offer canvas and aluminium choices up to 120 x 85cm, so you can enjoy really large statement pieces of art too.
I hope that this blog has given you some food for thought, and if you'd like to ask me any questions, drop me a line at mike@northwallgallery.com
Until next time, keep safe,
Mike