How an 'overtly sexual' cow took Northwall Gallery global
When I wrote my last blog post a few days ago, I'd been interviewed by Zoe Kleinman at the BBC for a story which turned out to be one of the most read stories on the BBC website on Monday and Tuesday. Monday night, Paul Hawkins interviewed me for television, and BBC World News broadcast it in the early hours of Tuesday morning. It's amazing how a story about some cows, an office block, some ripples, and the England cricket team has managed to capture the imagination of everyone.
If you didn't know already, Facebook banned a bunch of our images for sale from our Facebook store because, as in the image below, they were 'overtly sexual.' Then they banned our ad account. You can read the original story here.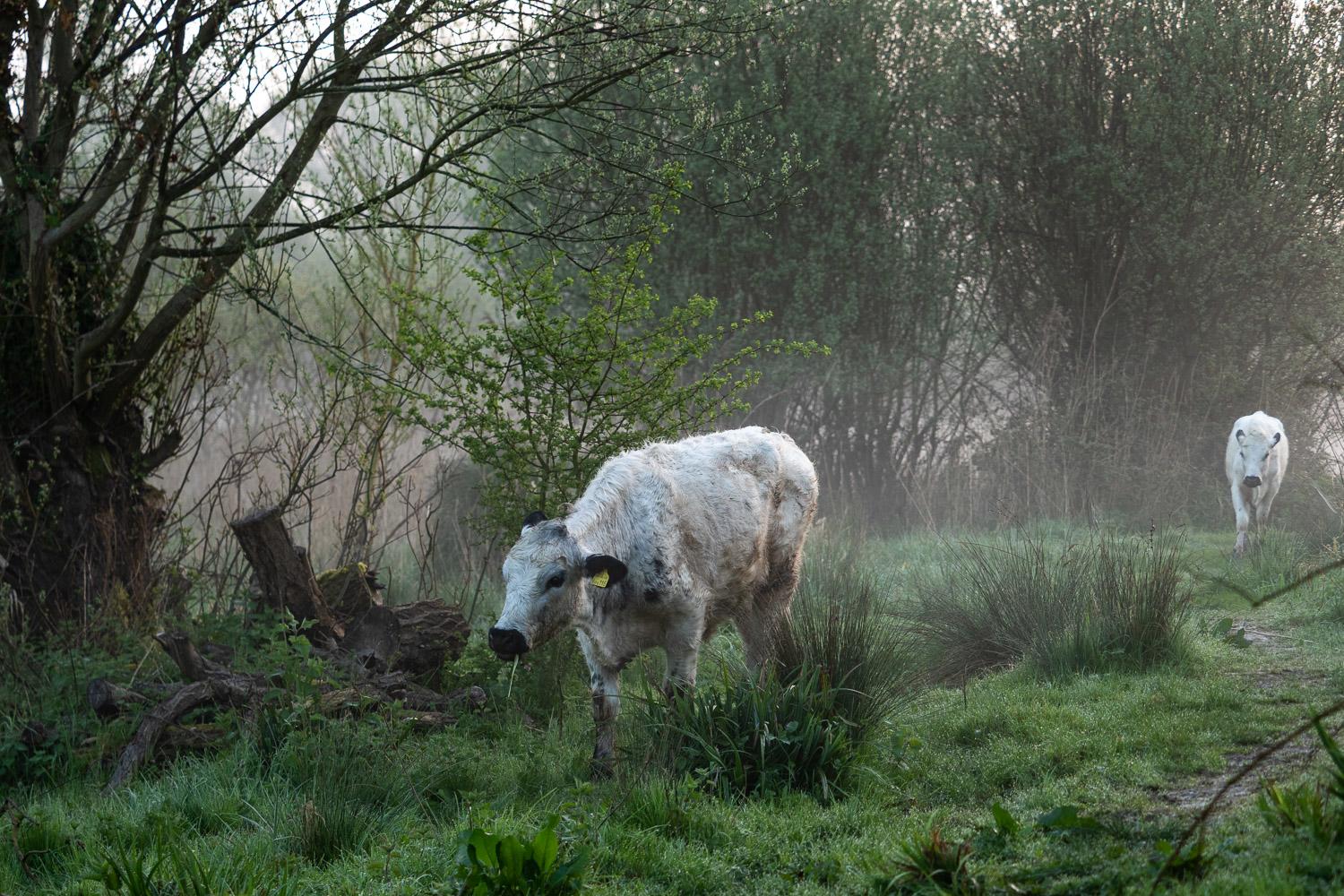 Wild Cattle, the image in our store that created all the fun!
Since then, Northwall Gallery has had articles in The Sun, The Daily Mail, and Metro, as well as the local press like the Hampshire Chronicle and Daily Echo. Not only that, it's been picked up internationally, so we've provided image rights to Esquire in Russia, Crictracker in India, to name a couple. The story even made it to Wisden, which is hilarious.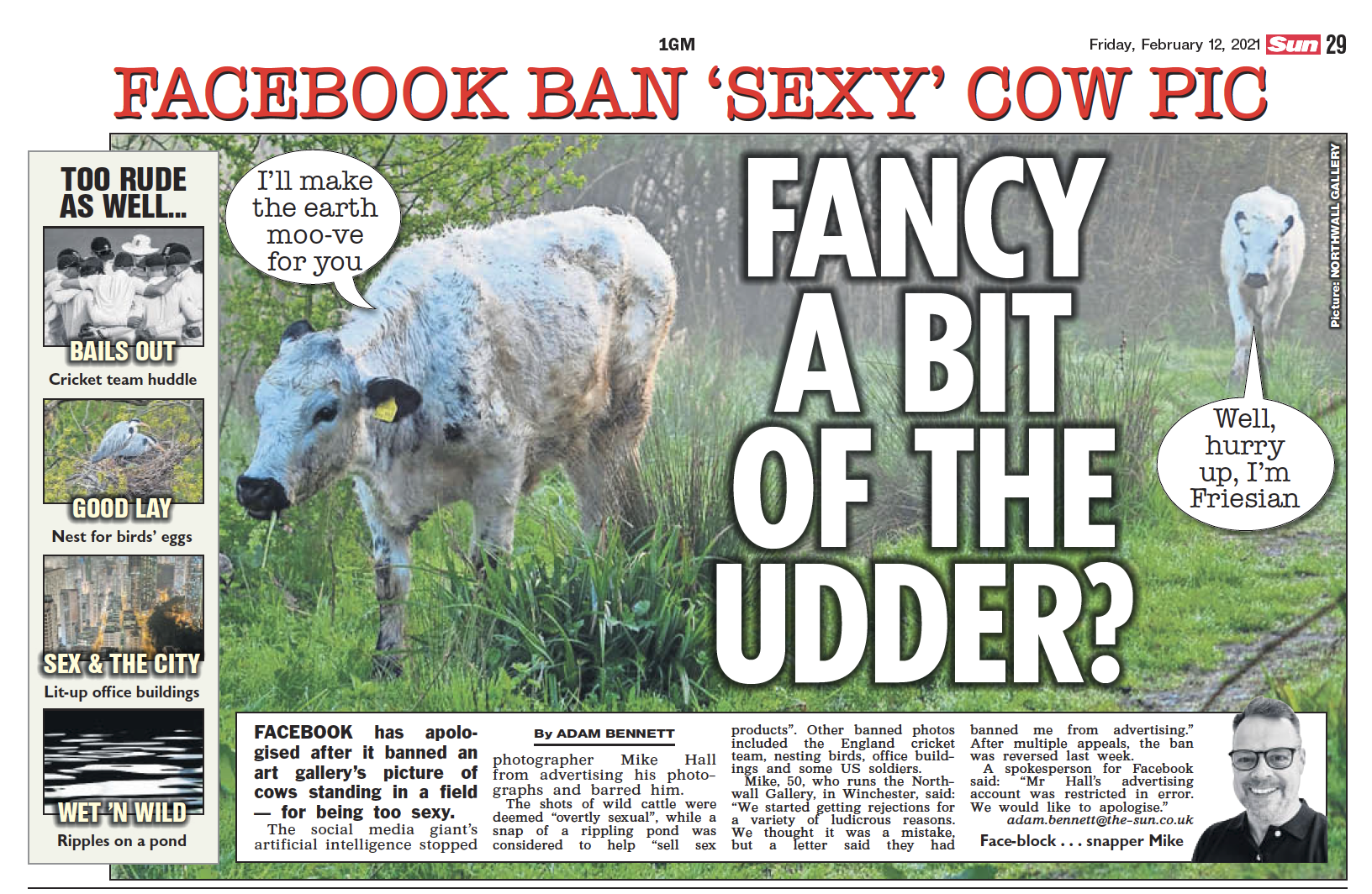 Our article in The Sun, Friday 12th February 2021 (c) The Sun
Yesterday, The Sun article got picked up on Jeremy Vine's Channel 5 show as one of the stories of the day, and we've heard that it was on Radio X in the UK too.
Not only that, it's been picked up internationally, so we've provided image rights to Esquire in Russia, Crictracker in India, to name a couple.
On top of that, the story has ended up in the US, Spain, Australia, New Zealand, with everything from tech based articles, to the funnies section.
All these things are still taking some time to sink in. Google 'Mike Hall Cows' and you'll find a wall of news stories about Northwall Gallery, which is kind of cool for a small business like us!
When we had the idea for Northwall Gallery, it was to try and set ourselves apart, and not get lost in the crowd. That's not because we consider our products better than anyone else's, but it's a crowded, competitive market. There are probably a dozen Mike Hall's as photographers, so that angle is out, using Etsy and Fine Art America are things we've tried in the past too, but they're incredibly difficult to differentiate oneself in.
What this whole story has shown though is how difficult it is to get noticed, get appreciated, make a difference.
The images that we sell are sold with love; I've been up in the middle of the night driving to get a sunrise at a location two hours away, such as this one in Brighton in 2018, 2am to get the best picture I could of a comet at 3 in the morning.
Brighton Sunrise, November 2018
Ultimately, for all that, photography is an art form I love, and always will. I can't draw or paint (honestly, I can barely read my own handwriting), I can't play an instrument, so my photography is my way of showing off a creative side that otherwise would be hidden away from the world.
Right now, I think the world is crying out for stories that aren't about Covid, Brexit and everything that was difficult in 2020, and that 2021 for now at least is repeating, and I'm glad that I and this story have helped lighten the mood a little.
We're still able to produce prints, and we've already sent some out to new customers this week. I honestly believe we have some great images for your home or office, at some very affordable prices, so please, if you're so inclined, share the story, but also think about buying a print too.
Until next time, stay safe, and thanks for reading.
Mike x