Photographic Adventures in Wall Art
2019 was a momentous year of travel for me. Whereas 2018 had a cracking holiday in Cyprus with my family, and a few days camping in France, 2019 was a whole new level of experience, and one which I took the opportunity to explore with a camera. That year I managed to visit Hong Kong twice, plus the Philippines, China and France again for D-Day 75, but in this blog, I'm writing about my first trip to Hong Kong and China.
It started with a promise; My sister and brother-in-law moved to Hong Kong a year earlier from Switzerland, and the regular trips I had done before suddenly became a bigger logistical challenge. It's one thing to jump on a plane at Gatwick for an hour to Zurich compared to 12 hours on a flight to Hong Kong. But they'd lived in Hong Kong before a few years earlier, and were as desperate for me to go as I was to visit, so we hatched a plan.
As with all good things, I reckoned that if I was going to take a trip out there, I'd want to maximise the experience, so with a plan to visit in April, I also enquired about whether we could get to Mainland China when I was there. The answer was yes, but I'd need a visa. So in late February I applied, and before I knew it, there I was with a visa for my trip inserted into my passport. The flights were booked, and on top of that, we'd decided to visit China via the new Bullet Train service from West Kowloon. But back to that in a moment.
So, around comes my flight, a 12 hour overnighter from Heathrow to Hong Kong. I land, am out the other side and before I know it, am enjoying wine and pizza with my sister and James in the mid-levels.
The next morning started with a completely fogged out trip to Victoria Peak, which has amazing views across the island (except when you can't see anything but grey), and then we went into a day of walking and exploring, showing me so many districts of the island that it was hard to keep up.
But that day was the birth of this image, Hong Kong Lunchtime, which I think perfectly encapsulates the hustle and bustle of the commercial district of the city.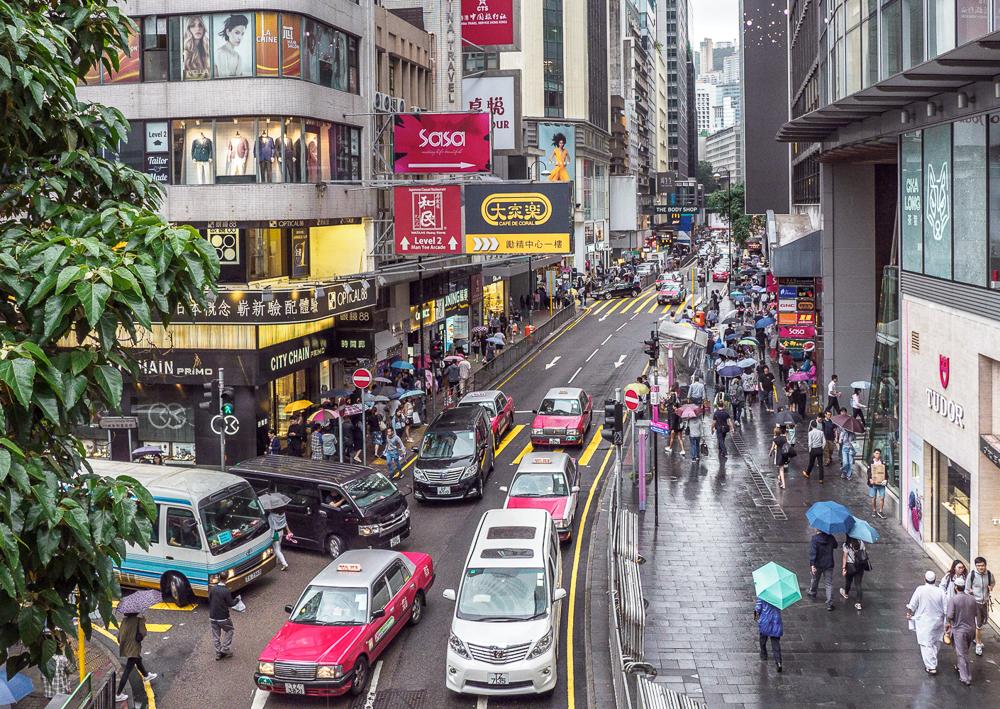 What you're never quite prepared for in Hong Kong is the knowledge that there is so much to explore outside of the city itself. Behind the skyscrapers and the tower blocks are simply miles and miles of trails. The city is almost a shop front for what lays behind it, a vast array of walking paths cut through the jungle above and around the island itself. This print, Nature Taking Hold is a great example of how the old concrete structures that ensured from World War 2 are now being reclaimed by the jungle.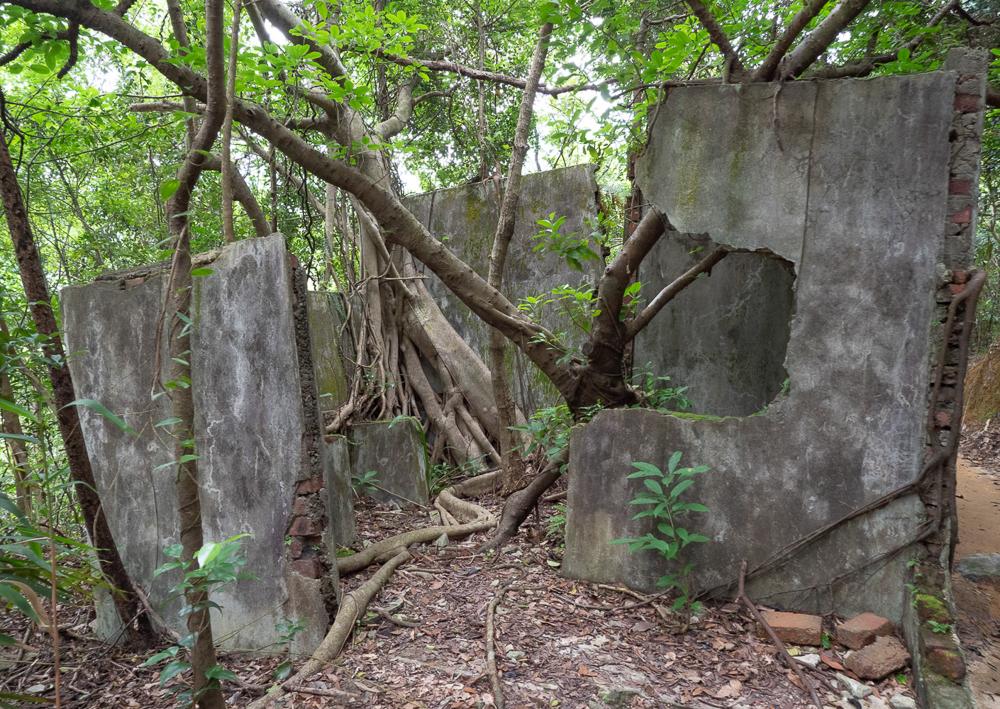 So, on the Saturday morning, after an early morning hike, and with my jet lag now in full effect, we took the MTR over to West Kowloon station and went through the experience of what is effectively double passport control. Although Hong Kong is technically part of China, you have to show your passport to leave Hong Kong, and then walk through another section, through a duty free area to show your passport again to enter China, which is where the visa comes in handy. So, after the best part of an hour and a bit of queuing and shuffling towards the front, passports were stamped, and we were on the platform.
The next 3 hours were spent hurtling our way to Guilin, which is a similar distance to travelling between London and Edinburgh, but in a lot less time.I have to say, experiencing a ride on a bullet train is really quite something. Comfortable, fast, quiet, and for the moments I wasn't lapsing in and out of consciousness thanks to the jet lag, I was lapping up the amazing scenery.
Guilin is a city of nearly 5 million people, and once at the hotel, we booked a trip the very next morning to visit the famous riverboats on the Li river. The Li runs for about 500km through China, and the scenery is simply breathtaking. That said, this was about the worst morning you could possibly pick for a visit. To cram everything in, we left the hotel at 6.30 in the morning, and it was pouring with rain. 90 minutes later at the riverboats, it was raining even harder. So, during an epic soaking, camera in hand, we travelled on a small bamboo raft with a guide, and the only way we could communicate is by translating via our phones, which made it a lot of fun!
This image, Guilin Hills I, shows off the incredible scenery. It really is something. And look how low the cloud was!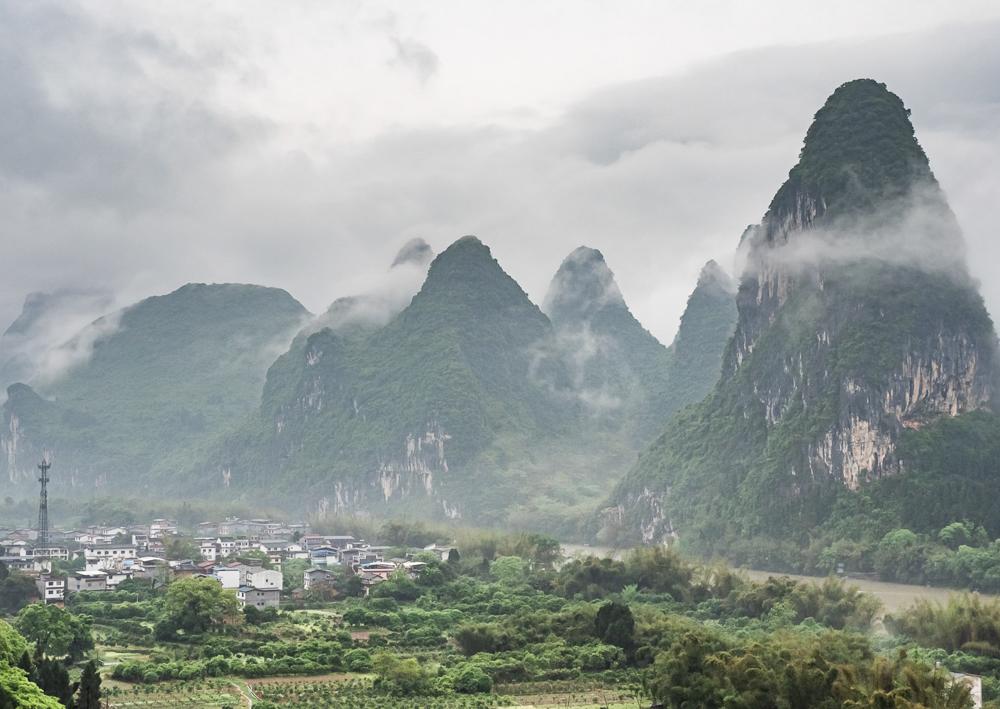 It's also worth having a mention of the people who live and work on the Li itself, and so this print called Rain on the Li shows off the weather and the type of raft we were on perfectly! For fun, I've played around with this print to keep only the red from the engine and the stripes of the huge parasol keeping them dry.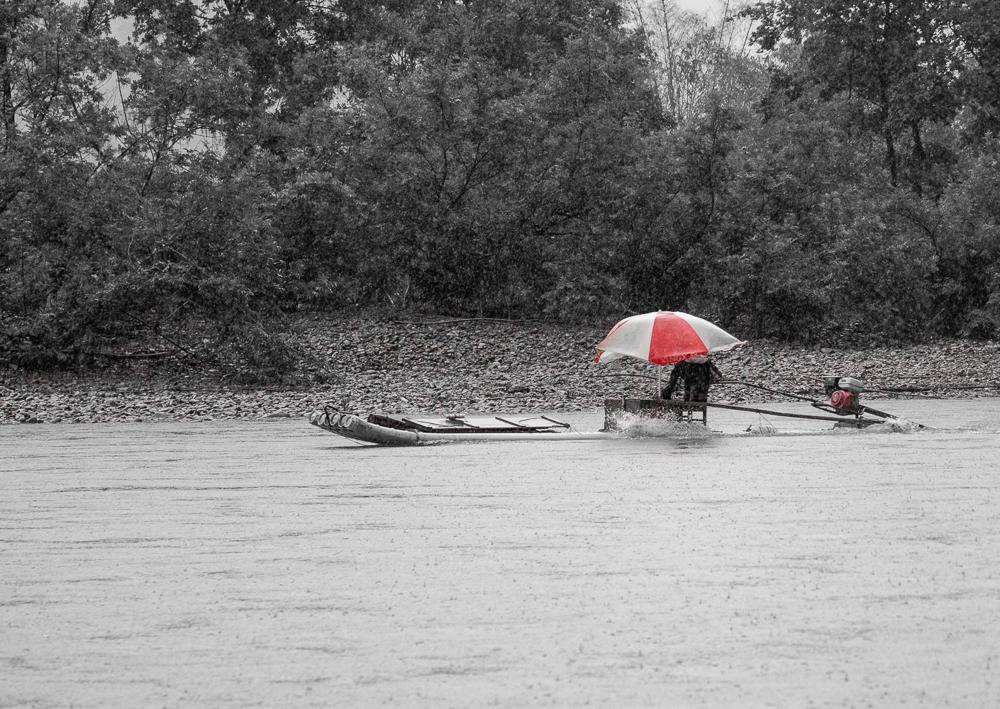 I've written before about my love of street photography, and as we were driving back to the hotel to pick up our bags, I was in the front seat of the car with my trusty Olympus at the ready. Mopeds are a way of life in China, far more than they are in the UK, so this shot, taken in Guilin itself was a real treat! It encapsulates the hustle and bustle of life there for me, and I was amazed how this guy was able to text whilst sitting on the back of a moped, so I called it Rear Messenger.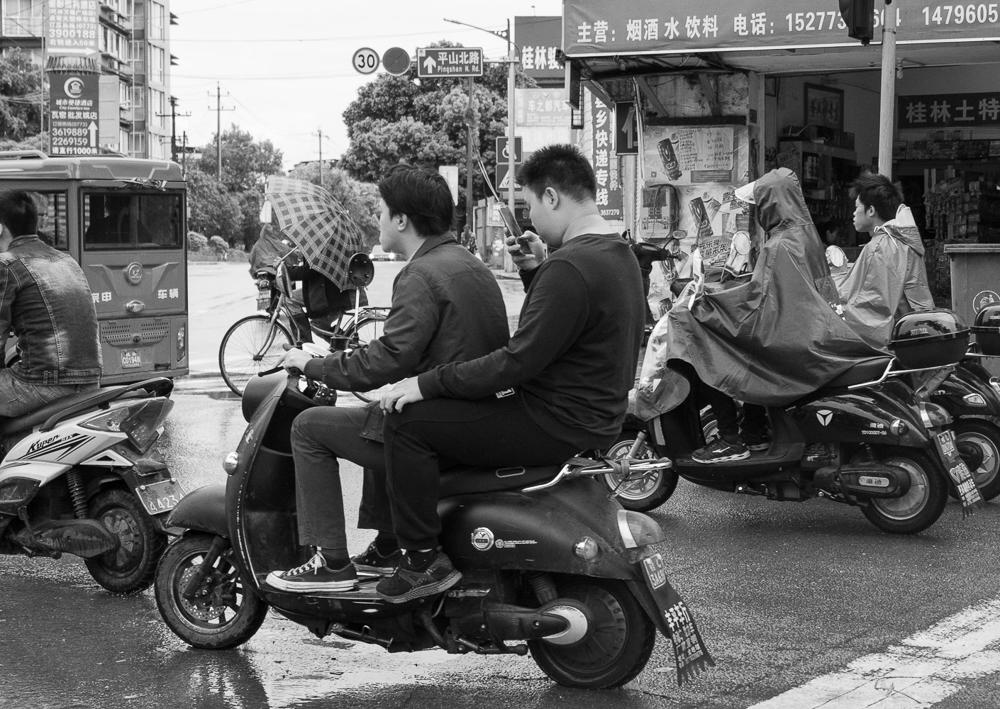 Back in Hong Kong that night, there was more rain. A lot more rain. But it yielded an image that in its own way became part of internet fame! You might remember that Facebook decided that it didn't like some of my prints for sale, because they breached its policies (well, its algorithms decided they did), and this image Looking Downtown, was banned by Facebook because "nothing was for sale" - except the image itself of course, which was kind of the point!
Looking Downtown was taken on a Sunday night in the pouring rain from the 23rd floor of a residential building in Sai-Wan. It's one of those shots which shows off the very best of what you can accomplish with night photography. It's an image I've loved ever since I captured it.
Finally, I want to leave you with what I think is probably my favourite image from that visit, which I called Right Angle. It was taken a few hours before I boarded my flight back to London, and encapsulates the high density living in Hong Kong, something which fascinated me, because there's nothing quite like it.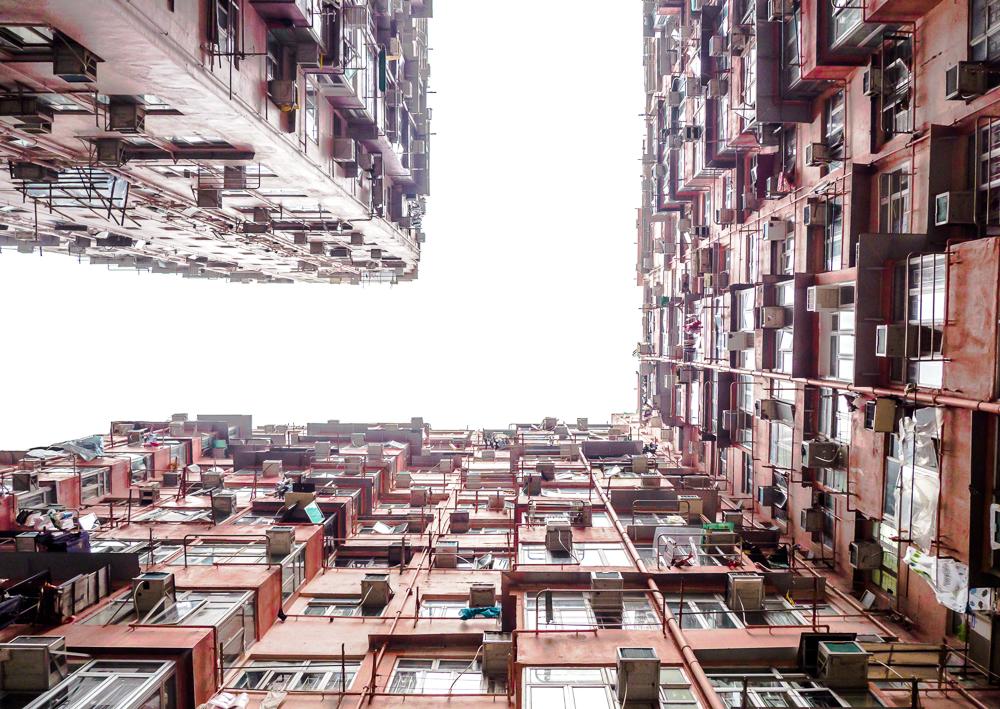 As architectural prints go, this is one of my favourites. I can't remember precisely where I took it in Hong Kong, but I think it is somewhere towards the end of Mount Parker Road. I used a wide angle lens and just looked up!
All of these images will make great statement pieces in your home too. So if you're a lover of Hong Kong, China or just of travel, any of these prints will look fantastic on your wall. We print everything ourselves, and you can choose our wall art framed or unframed.
All UK orders are sent with free delivery, but we ship worldwide too. And don't forget, if you'd prefer a canvas, you can choose any of these prints in that format as well.
I hope you've enjoyed the read, and drop me a line at mike@northwallgallery.com if you'd like to know more about any of the prints mentioned here.
Until next time,
Mike