Photography know how - a portrait shoot using a sunrise
It has been quite a week of really hot weather in the UK, in fact hot doesn't really do it justice, it's been unbearable at times. My natural reaction to it is to get up early, try and do something productive with the time, and rest up when it's too hot to work, which is why at just after 5am, I've already been up 90 minutes as I write this. There's another reason too - I have a badly sprained ankle, so doing anything involving walking with a camera is out for a day or two. Ouch.
Last weekend, temperatures were hitting 90 degrees where we live every day, and a British 90 degrees because of the increased humidity that comes with our climate feels somehow so much worse, we just aren't very good at dealing with it. So, as is not unheard of, I got up, decided to head to the coast, and Saturday and Sunday early mornings were spent down in Dorset.
Saturday morning had a plan, get up, grab a sunrise, get my feet wet, get some sand between my toes and get some hopefully suitably lovely landscape and seascape images. Now, I've photographed a million sunrises and sunsets, and in their own way, they're all perfectly wonderful. You'll find some of our sunrise and sunset wall art prints in the gallery here.
But what actually happened was really rather unexpected. I drove down to Avon Beach in Mudeford which if you know the area, is a lovely bit of golden sand on the other side of the spit from Hengistbury Head. I love it there for its tranquility, and last year, when it got really, really, really hot, my son and I went down there at 10pm just so we could get somewhere just a little cooler.
The sunrise was set for about 5.15am, and I drove down there and got there for just before 5. I live a 45 minute drive from this place, so you can begin to imagine what time I was up!
When I got there, I saw some people already walking down to the beach as I parked up, and as I wandered down towards the beach huts, a lady asked me if I was a photographer, I think my gigantic Lowepro rucksack gave it away. So we chatted for a moment or two, and when I got there, I saw the rest of her family including her daughter in her prom dress. They'd driven 60 miles in the middle of the night so she could have some prom shots in her dress. Just as I was getting my camera gear out, her mum came down from the car, and for the fun of it, I offered to do some shots for her.
Now opportunities like this don't come around very often for either of us - here's Maddy, a teenager in a lovely dress hoping to get some nice photos taken by her mum, here I am with a full bag of lenses and a couple of camera bodies, and so it seemed like a nice thing to do to just offer to get some images.
With the sun coming up, I chose not to use anything other than natural lighting, even though I had my flash and a diffuser which I could have set up.
So, we started by getting some images on the beach to keep things simple.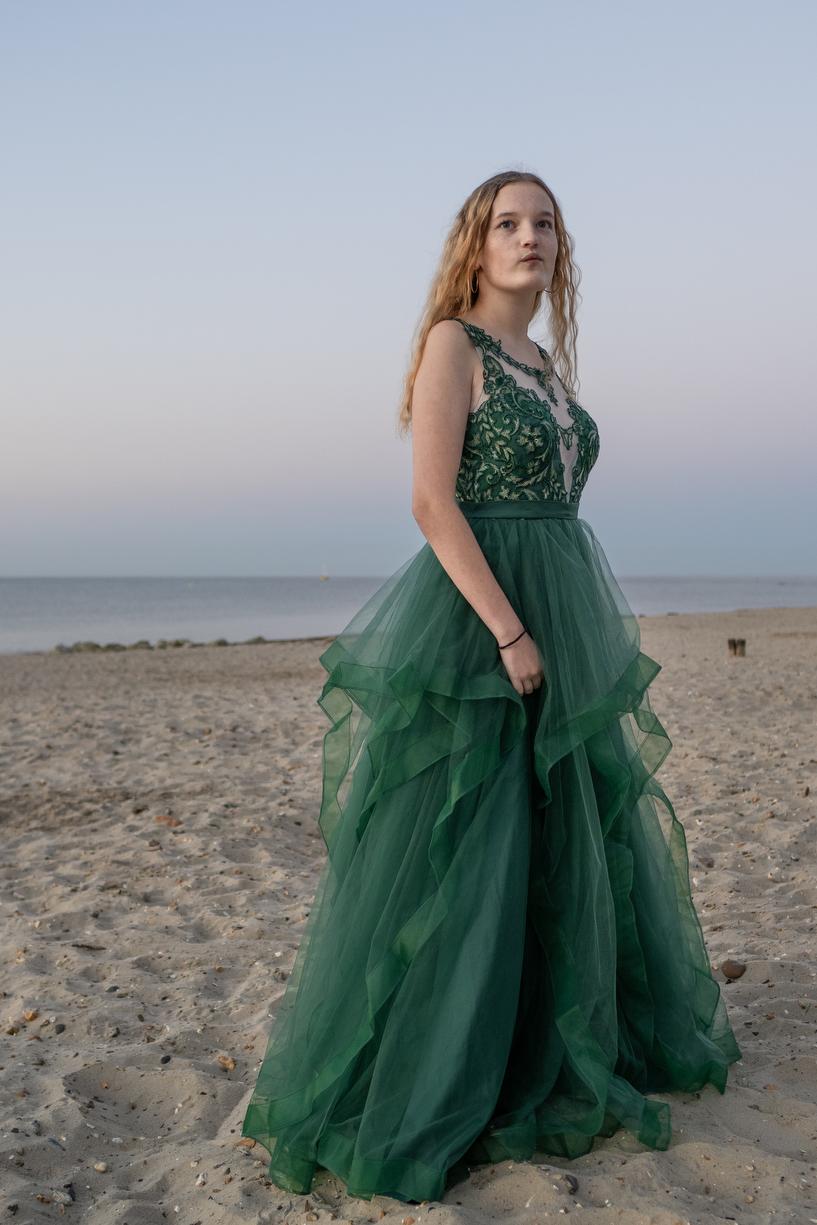 At this point, the sun wasn't up on the horizon. It was on its way, but not there. So I used a low f number at 1.8 (I could get down to 1.4 with this lens) and a relatively low shutter speed at 1/125 sec, with ISO at around 400 I think.
After a couple of on the beach shots, her mum and Maddy decided it would be fun if she stood in the sea, so that's exactly what we both did! Now, I am not advocating standing in salt water in a lovely prom dress, but it wasn't my idea, so I take no responsibility for it! I had an idea anyway, which was to use some long exposures as best I could with Maddy stood as still as possible, to get the movement of the sea affecting the dress. It was to give an ethereal effect to her portrait.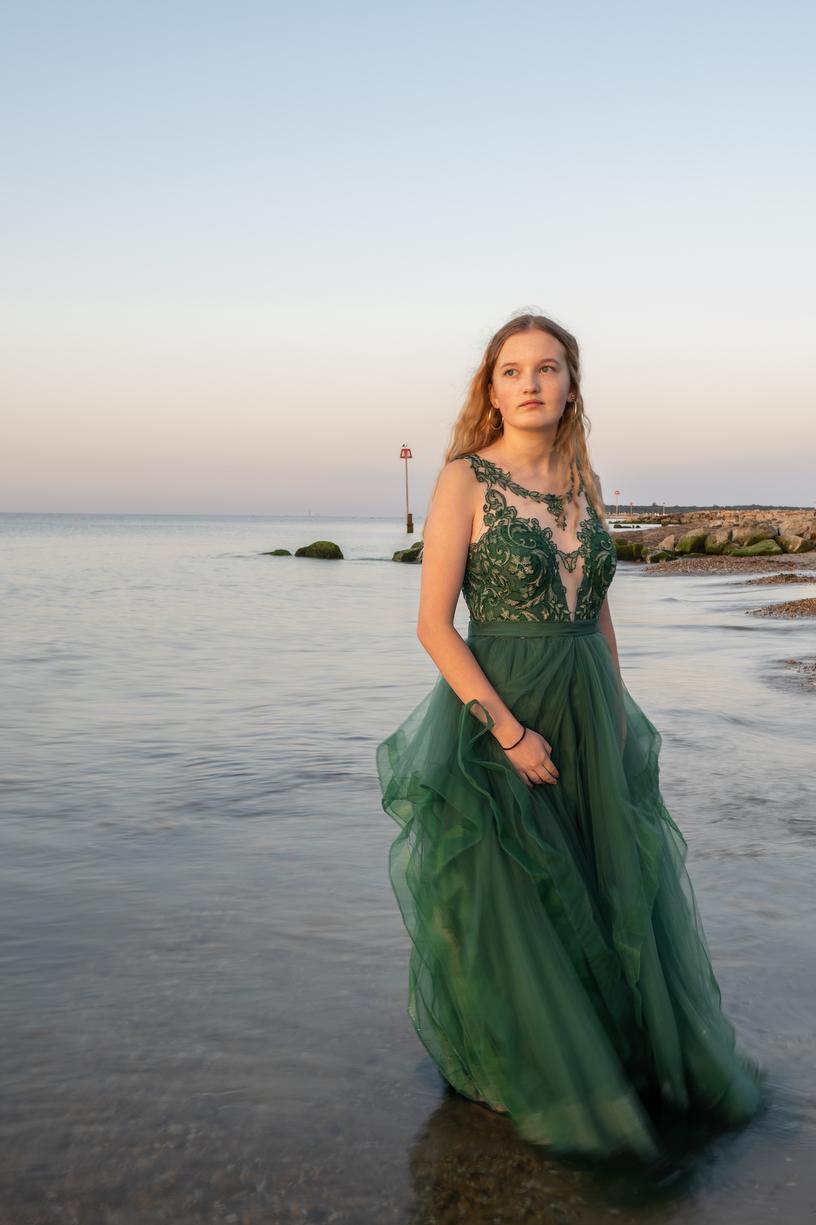 So Maddy was dead still and I used my little Manfrotto Pixi tripod as an extra grip to try and anchor myself as best I could. If you look really really closely, you'll find a tiny bit of shake, but it's really not noticeable. To get this, I used f4.5 with a digital ND filter and a 0.4 second exposure. By now, the sun was up, so this is naturally lit. Maddy is looking into the sunrise, and I am standing close enough to capture her dress moving in the sea.
Finally, we tried something else, a landscape format shot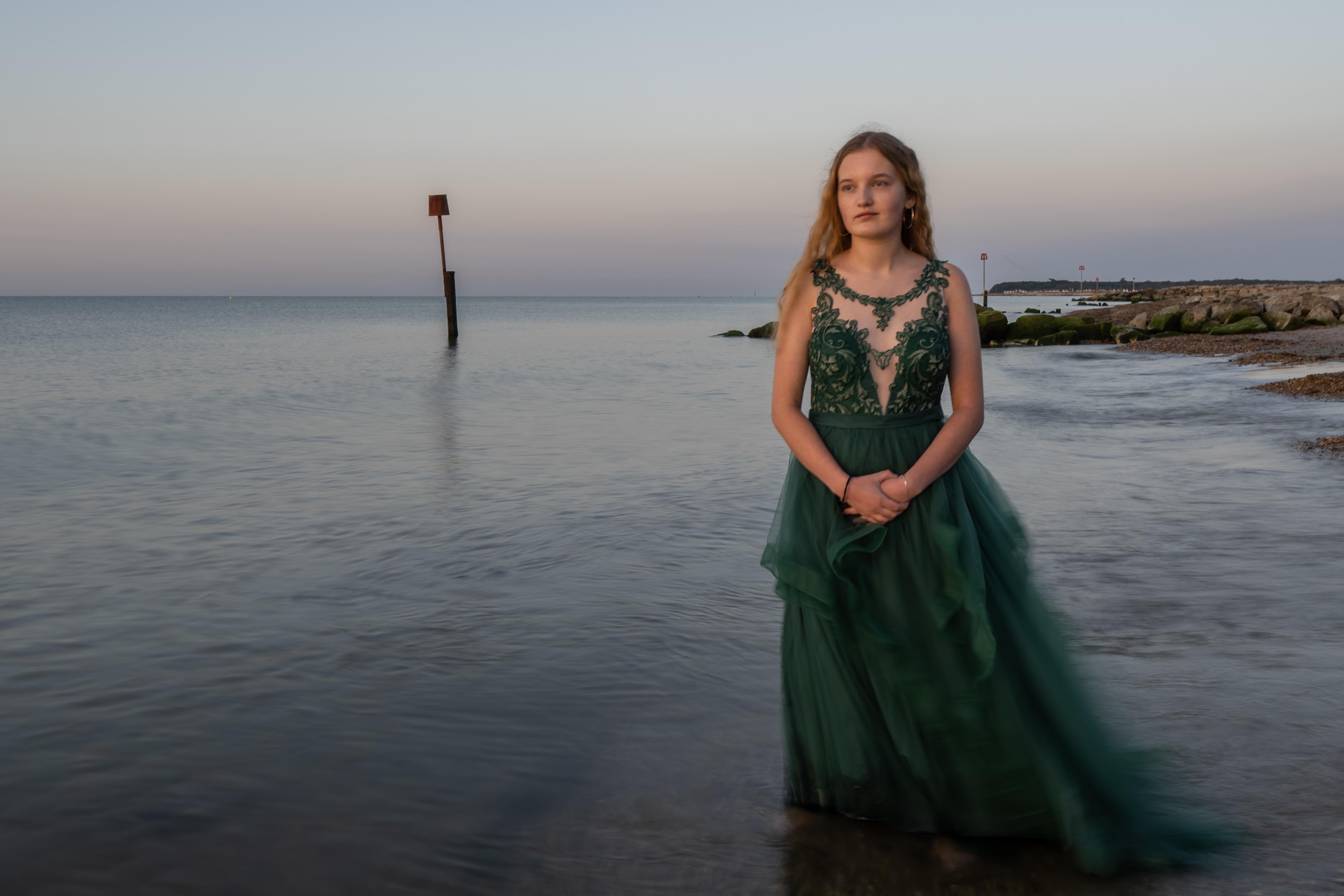 Again, she had to be absolutely dead still. I took this at f6.3 and at used an exposure at 0.6 seconds. Even with just 5 more minutes of sunlight, I needed the extra couple of extra increases in f-stop to get the movement in the dress. The only lighting here is from the sunrise.
Afterward, I used Lightroom to edit the exposure a little - I amended the orange and green channels for saturation and luminance to get better skin tones for Maddy and her dress. I added some highlights and shadow adjustments and cropped it a little. But that was about it. I emailed them to her mum, and they were really pleased with the results!
So to capture images like this for your own family, remember a few things:
You don't need a flash, but you do need some light! So wait until there's some of the sun risen.
Ideally, use a tripod, but if you can't, find ways of staying really, really still.
You need an exposure time of about 0.4 - 0.6 seconds
Use ISO adjustments to make sure you have something that won't be overexposed at that shutter speed
Make sure your subject stands as still as possible
Think about the rule of thirds - place the subject somewhere other than dead centre if you can.
Remember your surroundings - avoid having a pole sticking out of the subjects head!
Finally, thank you to Maddy and her mum for allowing me to publish this blog.
I hope you enjoyed reading about this unexpected photoshoot! Contact me at Mike@northwallgallery.com
Until next time, stay safe and keep looking!
Mike
Mike Hall holds the Licentiate Distinction from the Royal Photographic Society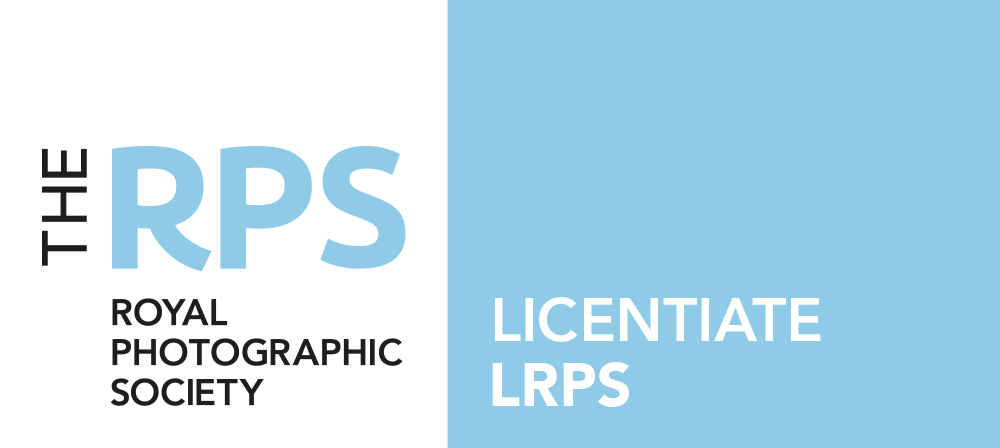 Mike Hall
Editor