Posters vs Prints - the differences and why it matters
Welcome to Spring! It's been a couple of weeks since we wrote a blog post, and in this article, we'll be talking about posters and prints, and the difference between the two.
If you're old enough to remember, back in the 80's, poster stores were all the rage. They sold accessible, affordable wall art, which was rolled up in a tube and ready to buy. You can still buy posters like that from places like HMV even today, and I certainly have lots of fond memories of flicking through the metal framed displays, looking for something I liked.
These days, like so much of retail, and including what we offer, buying posters is an online activity, and they're still popular.
So, what is the difference between a print and a poster?
The first difference is size. Posters are normally sold in sizes close to our A2 or A1 print sizes, they're more likely to be large, and large requires a decent bit of space. An A2 print for example is 24 x 16.5 inches (basically 60 x 42 cm) and that needs a decent sized area to show it off well. We sell prints that size too, but we call them prints, not posters, and here's why.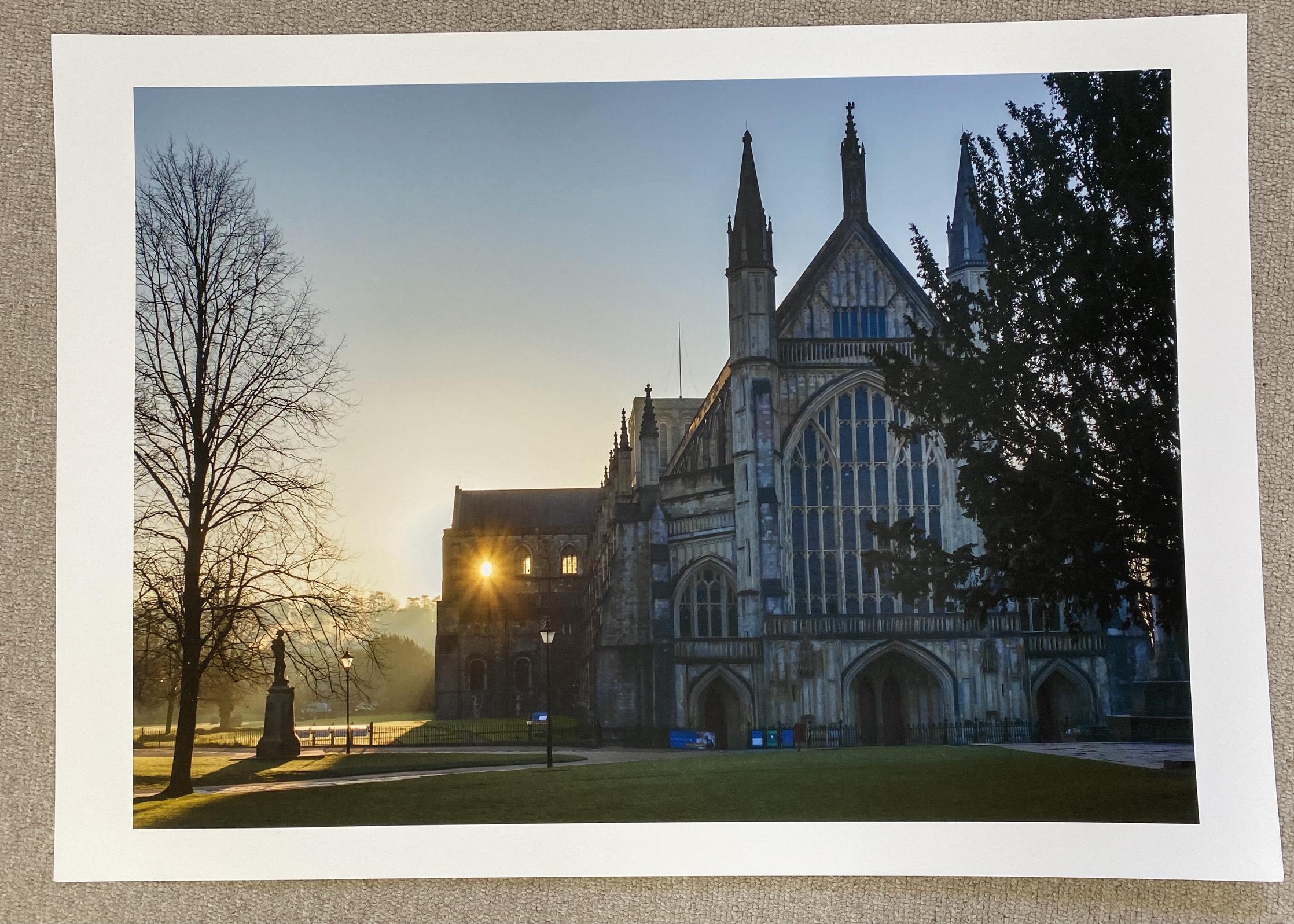 A2 fine art print of Shining Light - 310gm Marrutt Fine Art Paper, Matte finish
The second difference between a poster and a print is normally print quality. At Northwall Gallery, one of our absolute musts is print quality, we obsess over print quality!
Posters are to a certain extent, a mass market product, and they're printed as such. We use professional quality paper for our prints, and as we've said in previous posts, you could buy 1500 sheets of standard A4 for the same price as 15 pages of the paper we use!
Ever since we started Northwall Gallery, we have always said that we wanted people to stare at their walls a bit longer because our work was on the wall. So, print quality, and the paper you use really does matter.
Not only that, but we choose to use original manufacturer ink. There is a difference in that too, and every time we fill up our printer with new cartridges, it costs us £400! You may think we're mad using a printer that costs that much for ink, but read the our reviews and you'll see why.
Most prints use matte paper, which gives a low key, non reflective surface to print on. Matte paper is something we use on our fine art prints, but again, we use really high quality paper, and it shows in the final result.
So the main difference you'll find in a poster vs a print is quality, and that's why our prints cost a bit more, but they're still amazing value! We want our original wall art to be affordable, and we want you to love your choice from us.
Poster paper is often in the 150 - 200gm range, which is fine for what it is, but our lightest paper is 260gm. Ultimately, you get what you pay for. Our standard Luster paper is seriously good stuff, and our fine art paper is 310gm. You're buying original wall art, created by us, printed by us, sent directly to your home, and yet, it's still really affordable.
But for all our words, can you tell the difference? Absolutely. We pride ourselves on our five star reviews on Google, and here's what one of our customers said in February 2021.

We can't ask for better feedback than that, so thank you Caroline!
Whilst this isn't a real difference between a poster and a print, it's worth considering postal costs. If you're paying postal costs on top of the price you see in the store, think of the difference in the print cost vs the shipping price.
The price you see is the price you pay in our store, we offer free UK shipping, and so from the moment you put some prints in your shopping cart, you know you're getting great quality prints at an affordable price.
So, why not browse through the gallery, find something you love and we'll get it to you before you know it.
Take care, and catch you next time!
Mike