Telling stories - why our wall art has a story to tell
In this blog post, I thought I'd write a little about how photography can tell a story of its own without much explanation. One of the things that has always attracted me to capturing the world around us is the power to harness emotion, the ability to put yourself in the shoes of the person who took the image you admire so much.
For the most part, when it comes to getting a great image, you really have to be there, in the moment. You can't easily set up a remote camera and go back to bed for that sunrise, you can't ask the camera to march up that hill or get its feet wet, or even sit on the tube on its own. Cameras are merely a tool for the person using them to capture a little slice of magic, a moment, a memory, whatever that might be.
As a photographer, I know that capturing those moments comes with practice, planning and skill. As I've said before, for landscape photography, knowing where the sun rises and where it sets and not just when makes a huge difference to planning a landscape shoot. But there's more to it than that, more than time and tide.
Being in the right place at the right time is a huge factor with getting the image you want, but there are other external factors which are just as much outside of your control as the tide tables or the weather forecast.
When I am planning on a trip to a place I've visited (or even when I haven't been there), I'll have some ideas to take with me about the images I want as a core. And everything from there on in is a bonus. I'll look for familiar places, think about things I'd like to get a better image of than the one I already have, think about what the light will be like when I am there, and what the crowds might be like too.
So, for the purposes of this blog post, let's look at some images I took over the weekend just gone. Some of these will find their way into the gallery as wall art prints, some won't, but there was purpose to all of them.
In this piece, I'll be explaining a little bit more about how I went about capturing them and why.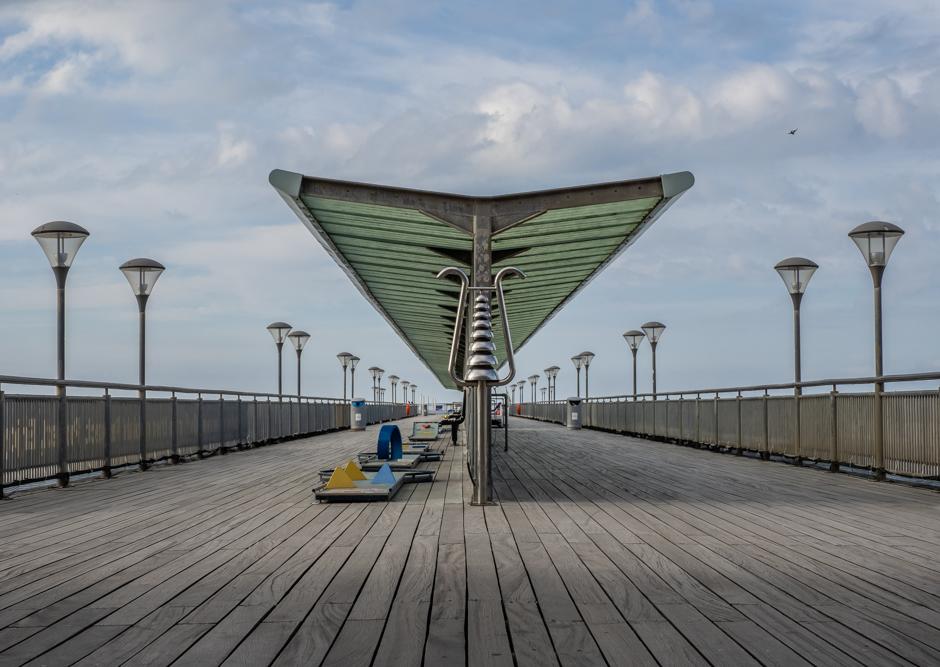 In the gallery already are a couple of prints from Boscombe Pier, in fact there's one of this exact same composition. So what's different? The light. The beautiful shadows across the wooden boards add so much. The empty pier and the mini golf holes all the way up the pier give you some idea of the entertainment on offer. I've even worked to make sure there is symmetry between the lamp posts. So, the chances are this new image will be making its way into the gallery soon and taking the place of one of the others. Watch this space.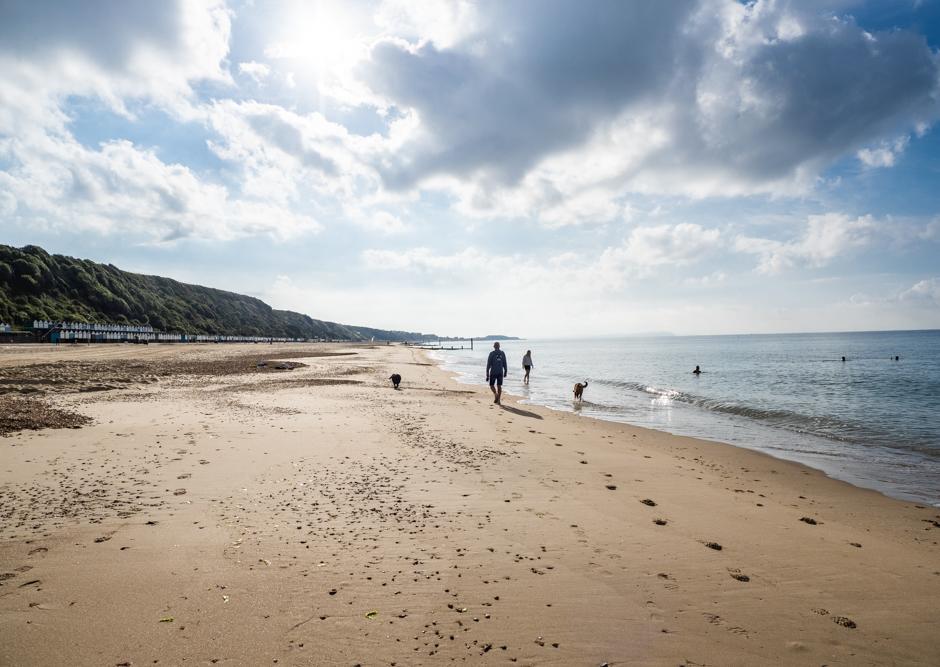 In this shot, which I've called 'Walking the Dogs on Saturday Morning', I made a deliberate choice to photograph into the sun. Now rarely is that a good idea to be shooting towards the sun, because for obvious reasons, the subjects are going to be outdone by the lighting. But this can also play to your advantage if you're looking for strong shadows, as I did here. Again, the image speaks for itself. A man and his partner walking along the beach, their dogs in tow, as three sea swimmers are in the distance. The sand has beautiful footprints, and it just has a lovely relaxed feel to it, just as I did when I took this.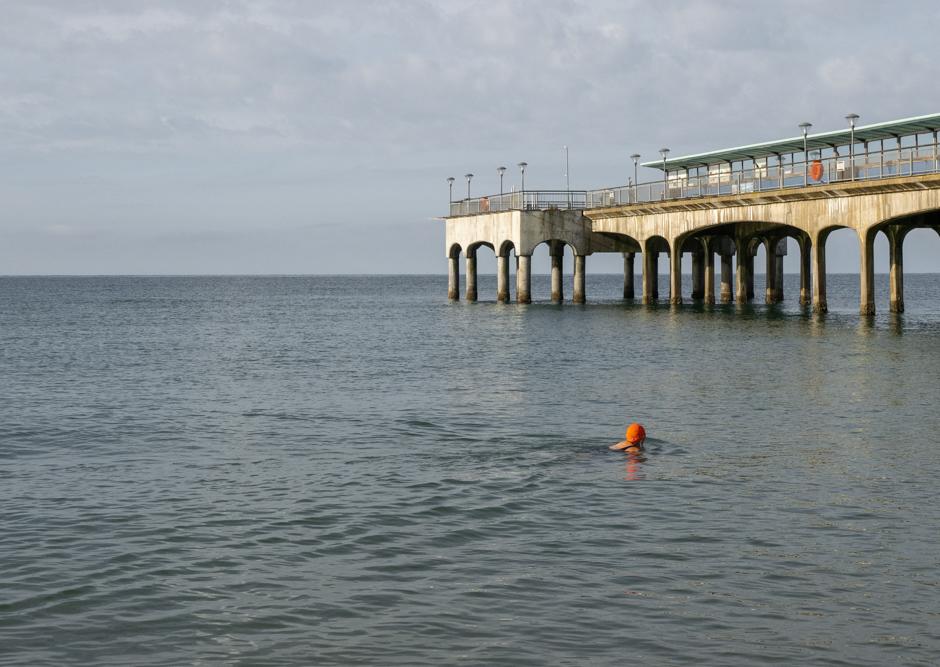 In this image, I've used the Rule of Thirds to put the swimmer's orange cap in the intersection between the right third and bottom third. She continued to swim until she got under the Pier, then turned around and swam back. I framed this image with the concrete Pier to give it some perspective, and again, it tells its own story. You don't need to know much about what's going on to figure it out. It's an interesting piece of documentary photography. I can't call it street photography with someone in the sea can I?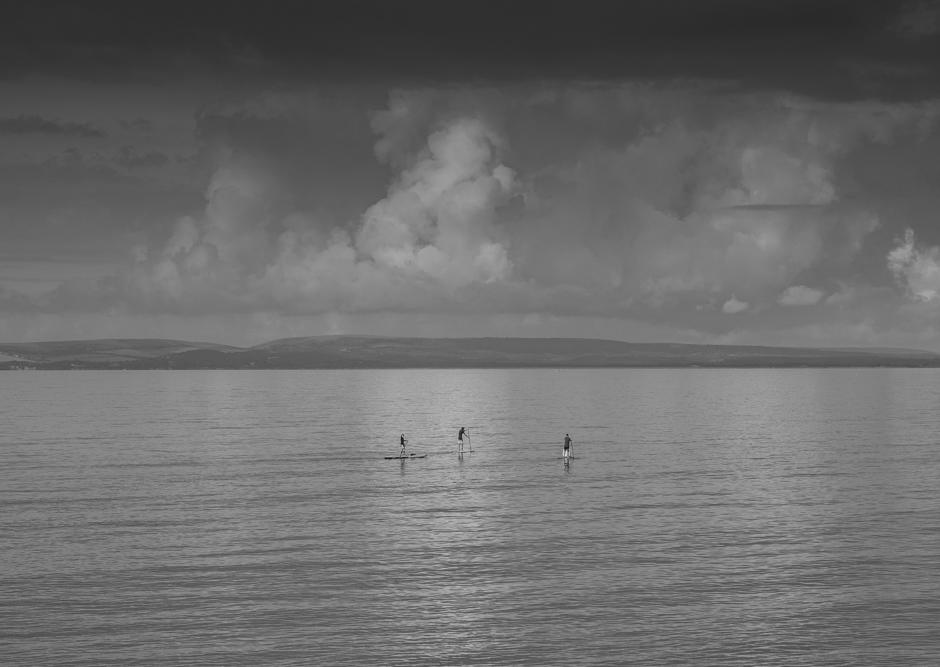 Black and white can also be a very effective way of telling a story in an image. I took this image of three paddle boarders from the end of Boscombe Pier. In the background, you can see the sky is brewing, the clouds swelling up. The reflections of the clouds on the relatively calm sea make for a decent use of capturing the central paddle boarder in that reflected cloud. It adds a nice juxtaposition to what is going on in the general stillness of the sea. Again, I've used the Rule of thirds to place the three paddle boarders on the lower third line for balance.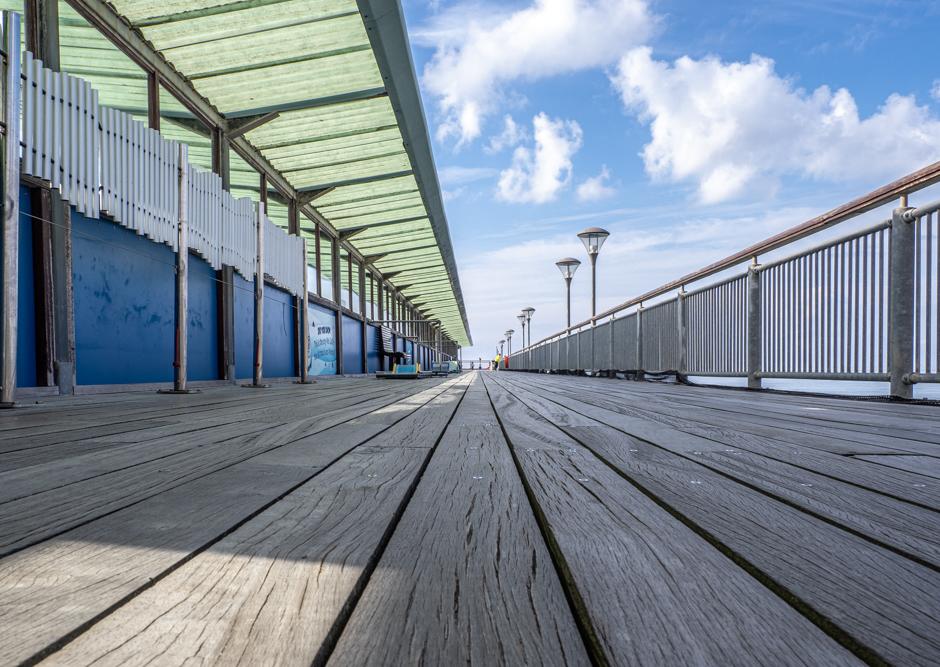 At the same time, I wanted to capture some physicality of the Pier itself. Boscombe isn't a very long pier, and it isn't overly commercial either. There are shops in front of it, but none on it. You can sit and watch the world go by, or play on the musical instruments. So for this image, I set up a very small tripod to get a real sense of the wood grain, and these lovely leading lines. This is definitely going to be on sale as a wall art print, and I think as a piece of wall decor, it will look fantastic.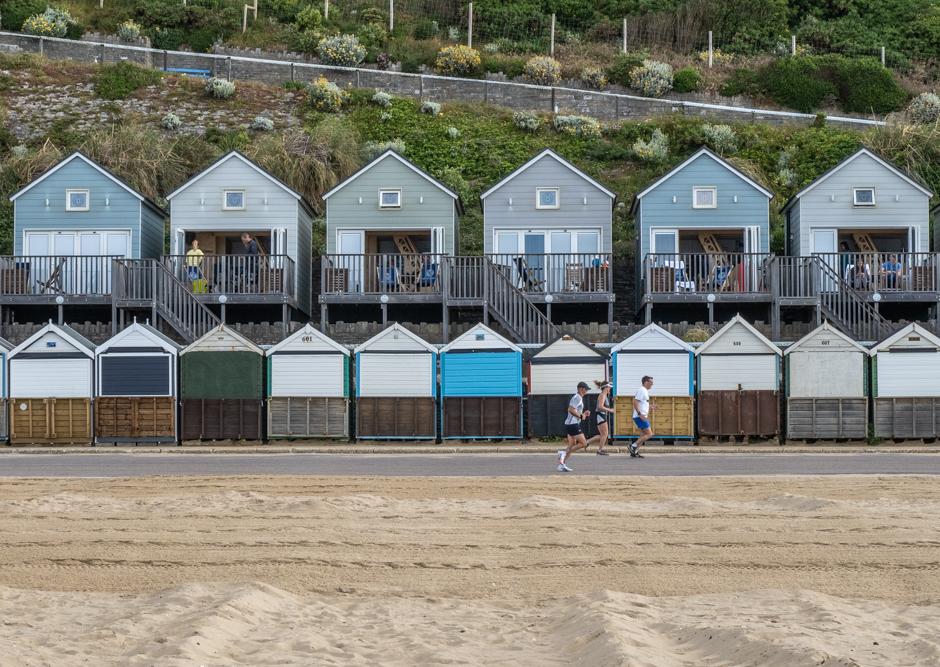 Finally, let's look at this - Three Runners and Beach Huts. I chose this because of the interesting visuals - two sets of huts stacked up on the beach and hillside, the lower ones shut, the upper ones with a few people getting into their day. This was about half seven in the morning, so people were already milling around and running too. In the front, out of shot, two tractors had been ploughing the sand to prepare the beach for the day. So there's some interest between the subjects, the foreground and the background. Some people standing, some already in deck chairs.
Obviously not every image I take will end up as a print, some I take for fun, some to practice technique (especially as let's face it, opportunities have been more limited over the last 18 months)! But I think the visual power of photography has its place in every home, be that on your wall, as a calendar, as a canvas, a framed print or a coffee table book.
I set up Northwall Gallery to showcase the best of my photographic work in a way that offers affordable, high quality wall art. So if you like your home decor to tell a story, come visit the gallery.
Thanks for reading. If you'd like to know more about anything I've written about here, about my work as a photographer, or how to buy a print, drop me a line at mike@northwallgallery.com
Mike Hall LRPS
Mike holds the Licentiate Distinction from the Royal Photographic Society for his print work.
Mike Hall
Editor